We supply welded tubes for heat exchangers in nuclear power plants. Our high-performance welded tubes are used in Condensers, High-Pressure and Low-Pressure FeedWater Heaters as well as MSRs (Moisture Separator Steam Reheaters).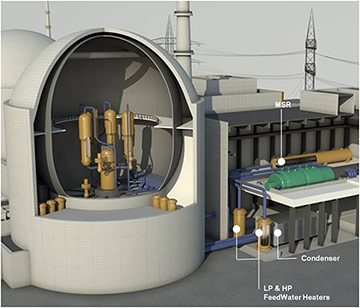 ©Vallourec
Condensers
The surface condenser is a key factor in plant performance. Its primary function is to condense the exhaust steam from the low-pressure turbine and return the feedwater to the steam generator or the boiler. The steam is condensed on the tube outside surface as the cooling water flows through the tube.
The cooling water can flow either from a closed- or an open-loop system which makes the condenser a critical component. Indeed, raw water ingress can contaminate the chemically controlled steam/water loop.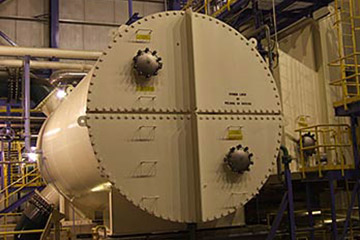 ©Alstom
Products & Solutions
Condenser tubes material:
Titanium Grade 2
Stainless Steel (mainly 304, 304L, 316, 316L,317L, 2205, LDX2101)
Super Stainless Steel (AL6XN®, 29-4C®, 254SMO®, 2507)
Condenser tubes design:
LP & HP FeedWater Heaters
Low-Pressure and High-Pressure FeedWater Heaters extract steam from the low- and high- pressure turbines to heat the feedwater from the condenser and forward it to the primary loop of the boiler or the steam generator. The intelligent use of this energy source is critical for the overall efficiency of a power plant.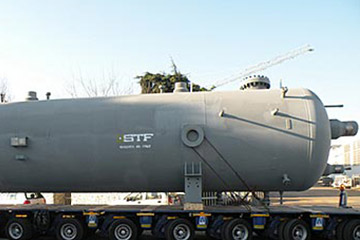 ©STF S.p.A
Products & Solutions
Low Pressure FeedWater Heater tubes:
Material: Austenitic Stainless Steel (mainly 304, 304N, 304L, 316, 316L)
Design: Smooth & Bent
High Pressure FeedWater Heater tubes:
Material: Mainly Ferritic Stainless Steel TP439
Design: Smooth & Bent
MSRs (Moisture Separator Reheaters)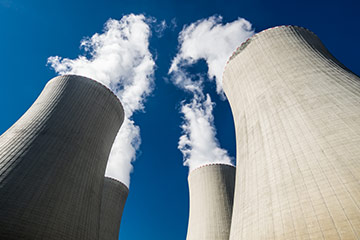 The MSR (Moisture Separator steam Reheater) is a key component in the steam cycle of nuclear power plants. By removing the moisture from the exhaust steam leaving the high pressure turbine and reheating the dry steam before entering the low pressure turbines, it increases the overall efficiency of the nuclear steam supply system and protects the low pressure turbine stages from damage due to moisture in the steam.
The MSR is a critical and complex piece of equipment due to its high pressure, high temperature and complicated two-phase flows both shellside and tubeside. Due to its contribution in the thermodynamic cycle of the nuclear power plant and its critical nature, MSR equipment can be considered as either part of the nuclear island or the balance of plant.
NEOTISS™ MSR Tube, our integral finned welded tubes in 439:
Material: Ferritic stainless steel 439
Design: Finned - Bent or Straight
More than 160 nuclear MSRs delivered
More than 220 nuclear condensers delivered
More than 170 nuclear LP & HP FWH delivered